6.1 Magnitude Quake Hits Masbate: Hospital Evacuated, Power Outage In 2 Areas
KEY POINTS
The Masbate Provincial Hospital was evacuated and patients were temporarily housed in tents
PDRRMO chief said parked vehicles rocked and power lines swayed in Masbate City
All work and classes were suspended Thursday for the entire province
A 6.1 magnitude earthquake with a depth of 6.2 miles that hit Batuan, Masbate, early Thursday has resulted in the suspension of all classes in the province and the evacuation of a hospital, after it left two areas without power.
As of Thursday morning, electricity supply for the entire province of Masbate and Ticao Island were interrupted, and while no major damages were reported in the morning, all classes and work was suspended for everyone in Masbate, the Office of Civil Defense (OCD) said in a statement.
The OCD said patients of the Masbate Provincial Hospital were evacuated and brought into tents set up outside the medical facility. There were no injuries among the patients, the agency said.
Masbate Provincial Disaster Risk Reduction and Management Office (PDRRMO) chief Dr. Adonis Dilao told ANC's Headstart that the earthquake "was a bit strong here in the City of Masbate because even the power lines were swaying. Parked vehicles rocked. It was stronger than the one yesterday."
The Philippine Information Agency (PIA) in Masbate released photos of the reported structural damage at the Magallanes Coliseum in Masbate City after the earthquake. The photos showed what appeared to be portions of the coliseum's roof falling on the ground as well as a damaged ceiling fan.
In other photos shared by the disaster management office in the municipality of Dimasalang, damage can be seen on concrete fences in different barangays.
The Philippine Institute of Volcanology and Seismology (PHIVOLCS) has recorded more than 80 aftershocks in Masbate since the first huge earthquake hit at 2:10 a.m. Thursday.
The PHIVOLCS also said Intensity 5 was felt in Uson, San Fernando and Dimasalang, while Intensity 7 was felt in Masbate City, as per The Manila Times.
According to the PHIVOLCS Earthquake Intensity Scale, Intensity 5 tremors are "Strong," with standing vehicles rocking noticeably and unstable objects falling over. Intensity 7, on the other hand, is described by the PHIVOLCS as "destructive" and may result in cracks on surfaces as well as considerable damage in old structures. Intensity 7 quakes may also trigger landslides.
Thursday's earthquake was preceded by a 4.5 magnitude temblor that hit Masbate late Wednesday afternoon and resulted in "hairline cracks" in several buildings that the PDRRMO assessed.
The last major earthquake in the Philippines was in October, when a 6.4 magnitude temblor hit Abra province in the north. A few months earlier a 7.0 magnitude quake also hit the same area, triggering landslides that killed 11 people and injured hundreds.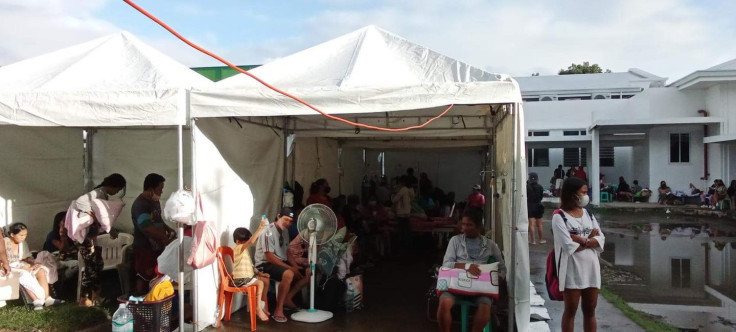 © Copyright 2023 IBTimes PH. All rights reserved.