China Ready To Resume Oil And Gas Talks With The Philippines, Says Xi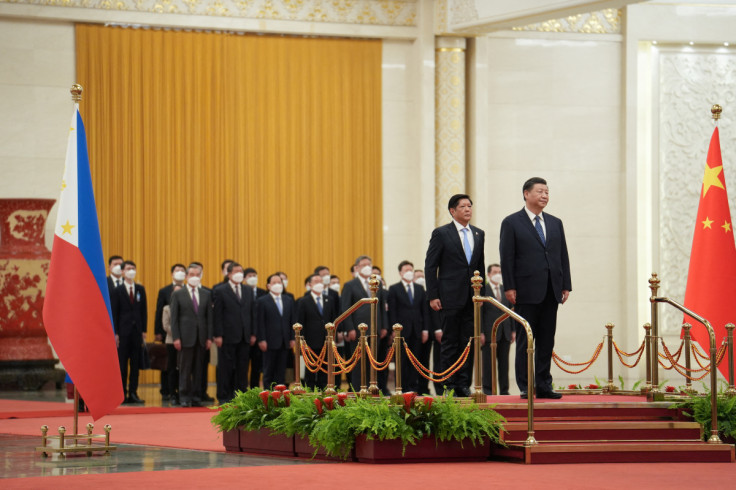 China is ready to resume oil and gas talks and manage maritime issues "cordially" with the Philippines, China President Xi Jinping said on Wednesday, according to Chinese state television.
Xi was speaking to his Philippines counterpart Ferdinand Marcos Jr, who was on a three-day visit to Beijing.
Beijing territorial claims in the South China Sea, which is rich in oil, gas and fish and where about $3 trillion in ship-borne trade passes annually, had been a source of tension between it and some Southeast Asian countries, including the Philippines.
The Philippines had previously raised concerns over reported Chinese construction activities and the "swarming" of Beijing's vessels in disputed waters of the South China Sea.
"We also discussed what we can do to move forward, to avoid any possible mistakes, misunderstandings that could trigger a bigger problem than what we already have," Marcos told reporters.
Marcos said he received Xi's promise for a compromise and solution that could allow Philippine fishermen to operate In their historic fishing grounds.
While the Philippines is a defence ally of the United States, under previous leader Rodrigo Duterte it set aside a territorial spat over the South China Sea in exchange for Chinese investment.
Xi told Marcos on Wednesday that China is willing to jointly explore oil and gas resources in the non-disputed areas of the sea, cooperate with the Philippines on solar and wind energy, and increase imports of fishery products.
The two countries signed 14 bilateral agreements on Wednesday, including deals on agriculture, infrastructure, development cooperation, maritime security, and tourism, among others, the Philippines' presidential office said in a statement.
Xi also promised wide cooperation, from support for Chinese investment to the Philippines, to helping its neighbour develop its villages and agricultural technology, basic education, meteorology and space, and vaccines.
Marcos's visit comes as Xi reopens China's borders to the world after three year of isolation to guard against the COVID-19 pandemic. Xi greeted Marcos without masks as both men attended a welcome ceremony in the Great Hall of the People, a grand building in the heart of the capital.
Marcos also met Chinese outgoing Premier Li Keqiang and Parliament chief Li Zhanshu on Wednesday.
© Copyright Thomson Reuters 2023. All rights reserved.