Decriminalize Drug Use? Yes, Says Ex-PNP Chief Who Led Duterte's Bloody Anti-Drug Campaign
KEY POINTS
Dela Rosa said decriminalization will only apply to users, not dealers, nor manufacturers
Law enforcement agencies have expressed opposition to his bill
Social media users are doubting Dela Rosa's change of heart
Sen. Ronald "Bato" Dela Rosa announced Thursday that he authored a bill seeking to decriminalize the use of illegal drugs. Dela Rosa's revelation has been met with some criticism as social media users asked why he seemingly changed his stand on the matter after facing charges by the International Criminal Court (ICC).
"I am the one who authored that bill and I really want that," Dela Rosa told GMA News Network in an interview Thursday when asked for his thoughts regarding Sen. Robin Padilla's suggestion to decriminalize drug use and treat drug addiction as a health issue during a recent Senate panel hearing.
Dela Rosa further explained that the goal was "to decongest the jails" and put illegal drug abusers into rehabilitation centers since these facilities were only at 50% capacity.
The former Philippine National Police (PNP) chief went on to reveal that he sees substance abuse "not more of a law enforcement problem but more of a health problem," clarifying that decriminalization will only apply to users. "Drug pushing, manufacturing, trafficking is a different matter," he said.
While the Department of Health (DOH) supported decriminalization of substance abuse, Dela Rosa said law enforcement agencies strongly opposed the bill, which led to the bill hearing's postponement.
According to Dela Rosa, the National Bureau of Investigation (NBI), Dangerous Drugs Board, PNP and the Philippine Drug Enforcement Agency (PDEA) argued that decriminalizing drug use may instead send the wrong message about the use of illegal drugs being acceptable.
Just a day after his revelation on GMA News Network, Dela Rosa told local DZBB that he now has second thoughts about his proposed law.
"That bill that I authored – which I will sponsor in the plenary, if approved – we created it during the height of our war on drugs where our jails were already getting congested with drug offenders," the former policeman said Friday.
Dela Rosa went on to explain that the bill was filed "out of pity for those crammed in jails."
The 60-year-old staunch Duterte backer clarified that he will not withdraw the bill he filed in July as it contained other provisions that seek to improve how the country dealt with illegal drug use and trafficking.
Twitter users are flooding tweets by media outlets regarding the matter, questioning Dela Rosa's apparent change of heart after facing international human rights charges and his real motives for filing such a bill.
Dela Rosa is infamously known to have been the official who led former President Rodrigo Duterte's bloody war on drugs. Along with Duterte, he is facing charges related to "crimes against humanity" by the ICC, to which he and Duterte have refused cooperation in for investigation.
Duterte canceled the Philippines' membership in the ICC, but legal experts say the cancelation doesn't matter since the ICC covers crimes committed during a country's membership period in the organization.
Meanwhile, the new administration has said that it will focus on the rehabilitation and reformation of individuals accused of having been involved in illegal drug use or trafficking.
During an August organizational meeting of the Senate Public Order and Dangerous Drugs panel, Dela Rosa said all police officers responding to a drug-related case or buy-bust operation should wear body cameras to ensure better transparency in operations.
In 2019, Dela Rosa said "sh*t happens" during police operations when asked about the death of a 3-year-old girl while her father was being targeted in a drug raid.
According to a 2017 report by human rights advocacy group Human Rights Watch (HRW), Philippine police falsified evidence to justify the killings of some individuals who died during the Duterte administration's anti-drug campaign under Dela Rosa.
While Malacañang has admitted to around 6,600 killings during Duterte's war on drugs, Amnesty International said evidence "points to many thousands more killed" when the government's anti-drug campaign flourished.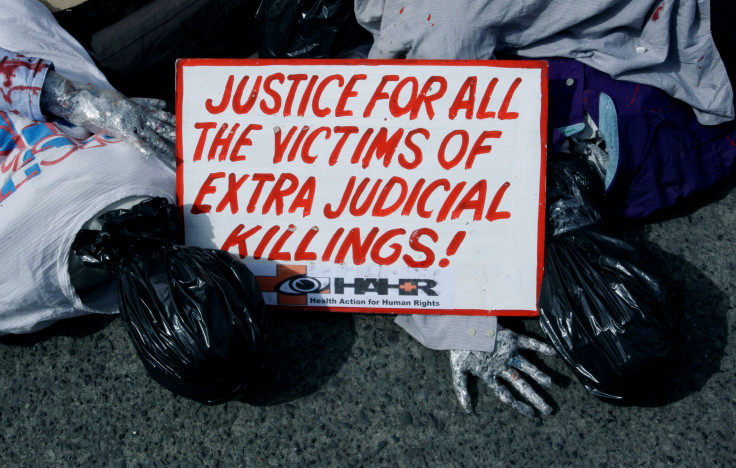 © Copyright 2023 IBTimes PH. All rights reserved.