Despite Dashed Hopes, Some In Ukrainian City Kherson Refuse To Leave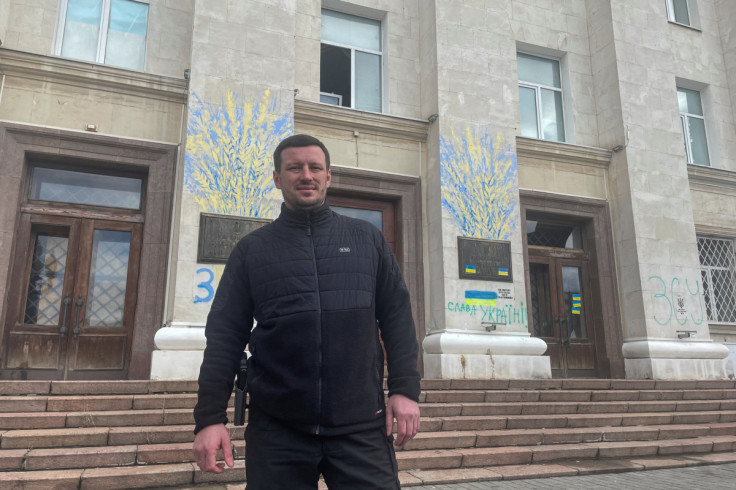 Vladyslav Antoniuk felt euphoric three months ago when he returned to his home city Kherson, the day Ukrainian troops rolled back in and jubilant residents waved blue and yellow flags in the main square to celebrate.
The recapture of the only regional capital Russia had seized during its invasion was the biggest triumph of Ukraine's counter-offensive in the second half of last year, lifting hopes across the country and bringing displaced residents flooding home.
But three months later, Ukraine's advances have halted and grim reality has set in. Russian soldiers, who retreated just across the Dnipro River, have not been pushed back further and are pummelling the city daily with artillery.
Many residents have now left for a second time, with the encouragement of the region's leaders.
Not Antoniuk, 46, who says he's going nowhere: "It's my city. People help each other in their own way," he said.
But Vasyl Nezgoda isn't so sure. Two weeks ago, a Russian Grad rocket slammed into his apartment building roof. He moved to a friend's house and is staying in the city for now.
"But if the situation gets worse I will leave."
Residents endured eight months of what many describe as a brutal Russian occupation. Ukrainian authorities are investigating hundreds of disappearances and cases of physical or sexual abuse of detainees by the former occupiers.
But high hopes that the city's return to Ukrainian control would bring normalcy have not materialized. These days, the central square is deserted. On Wednesday, Russian shells hit a bus stop in the city centre, killing six people and wounding a dozen.
Officials estimate just 50,000 people remain of a pre-war population of 279,000, and they are now advising the rest to leave, as long as the city remains within range of Russia's guns across the river.
"Until we have a distance of 30-40 kilometres to the enemy, it is better for people to leave, to save their lives and health," said Oleksandr Prokudin, head of the Kherson Regional Military Administration, a position akin under martial law to governor.
He spoke to Reuters outside Kherson's stately administration building, missing several windows after nearby blasts shattered their glass. He said his administration evacuates about 100 people from the city daily on trains and buses on a voluntary basis.
Many don't go far. While Kherson city's population is shrinking, other Ukrainian-held areas further from the front line in surrounding Kherson region, known as Ukraine's fruit basket, are receiving more people.
Prokudin, 39, has only been on the job since Feb. 7, after President Volodymyr Zelenskiy fired a slew of public officials, saying he needed to clean up internal problems. Prokudin previously led Kherson region's National Police department.
He faces a hard sell urging some holdouts to leave.
"We will stand here," said Ihor Vlasenko, 60, who works for a heating company. "I am not thinking about leaving."
© Copyright Thomson Reuters 2023. All rights reserved.