Japan GDP Rebounds Less Than Expected In Fourth Quarter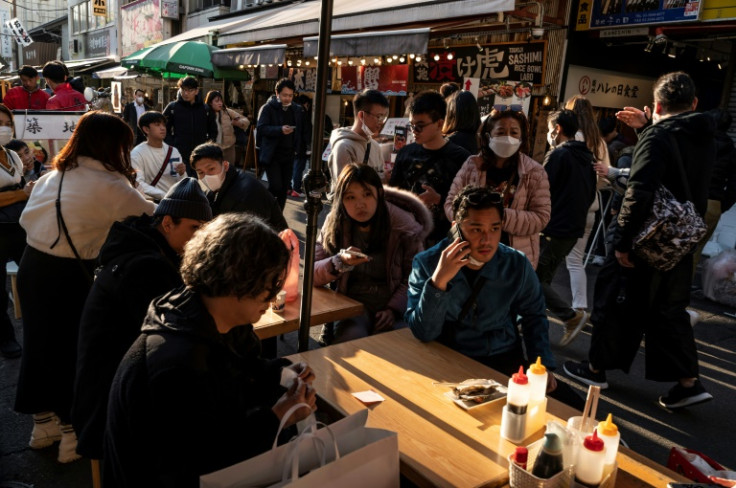 Japan's economy expanded just 0.2 percent in the last quarter of 2022, a smaller rebound than expected despite the long-awaited reopening of the country to tourists, government data showed Tuesday.
The figure for the three months to December fell short of the 0.5 percent growth forecast by analysts surveyed by Bloomberg, with the world's third-largest economy growing 1.1 percent for the calendar year.
Japan reopened its doors to tourists in October after two-and-a-half years of tough Covid-19 restrictions, lifting a cap on the number of arrivals and ending a rule requiring visitors to come on package tours.
In 2019, a record 31.9 million foreign visitors came to Japan, putting the country on track for its goal of 40 million by 2020, when Tokyo was supposed to host the Summer Olympics.
But in 2021, the figure plummeted to just 250,000.
"Japan saw moderate growth in Q4 2022," Hiroyuki Ueno, senior economist at SuMi TRUST, said in a note before the data was released.
"Consumer services benefitted from an increase in domestic travel and a rise in inbound tourists," he wrote.
"Exports were resilient, reflecting the easing of supply constraints on automotive-related goods and moves to restore inventories overseas."
A cheaper yen in the last year may have encouraged foreign visitors to spend more in Japan, though it also weighed on the spending power of Japanese households and the bottom line of some firms.
"Enterprises dependent on domestic demand enjoyed cheap imports and could reduce costs," wrote Ueno.
"However, export industries did not fare as well. Overall, a strong yen is still negative for the Japanese economy as a whole but not to the extent it was in previous decades."
External trade was positive for the quarter, compared to the preceding period, as exports improved and imports were tamed with the slight recovery in the yen and the cost of fuel.
However, inflation hit four percent in December, a figure not seen in Japan for more than four decades.
Despite the price pressure, Japan's central bank has declined to shift gears on its ultra-easy monetary policy, convinced that inflation is being driven by temporary factors like fuel costs.
It wants to see sustained two-percent price growth to help turbocharge the economy, particularly through wage increases.
A new Bank of Japan governor will be nominated later Tuesday, with economics professor Kazuo Ueda widely expected to replace Haruhiko Kuroda after his decade-long tenure ends in April.
Analyst Ueno said the outlook for the first half of 2023 "is positive", with the rise in import prices expected to taper off as inflation stablises in Europe and the United States.
But others were less optimistic, with Taro Saito of NLI Research Institute forecasting that solid domestic demand would be counterbalanced by declining exports "mainly due to the slowdown in overseas economies."
"Therefore, low annual growth of around zero percent is currently estimated."
However, at the end of January, the IMF revised up its forecasts for Japan's 2023 GDP to 1.8 percent from a previous estimate of 1.6 percent.
© Copyright AFP 2023. All rights reserved.