Japanese Investors Turn Net Sellers Of Overseas Bonds On US Rate Worries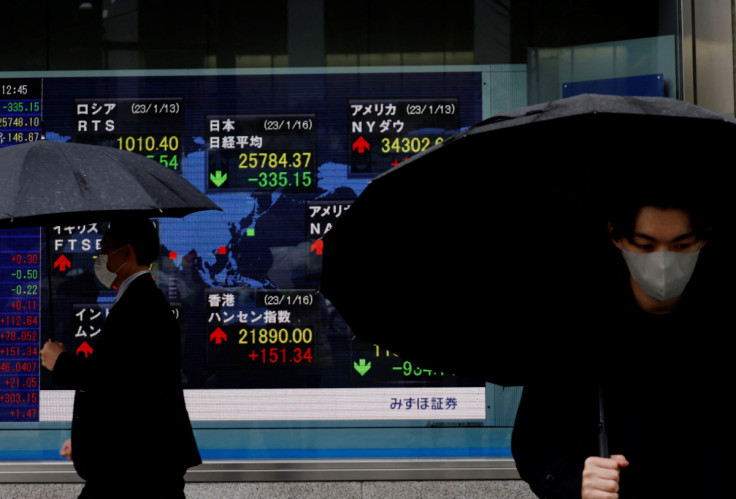 Japanese investors turned net sellers of foreign bonds last week, after three weeks of buying, as U.S. bonds fell on concerns over further policy tightening by the Federal Reserve.
They sold a net 332.6 billion yen ($2.43 billion) worth of overseas bonds last week, marking their first weekly net selling since Jan. 27. They disposed of a net 228.8 billion yen worth of long-term and 103.8 billion yen worth of short-term foreign debt securities.
(Graphic: Japanese investments in overseas debt securities -
)
Last week's data showing robust U.S. business activity and hawkish views from Fed officials stirred worries that U.S. interest rates would stay longer for more than expected.
The yield on benchmark 10-year Treasury notes, jumped 38.5 basis points last week, the biggest increase in four weeks.
"Japanese investors - and global investors too actually - have been caught off guard by the stronger U.S. data and resulting Fed hawkishness," said Naka Matsuzawa, a strategist at Nomura in Tokyo.
Japanese investors were heavy sellers of foreign bonds last year due to the sharp decline in bond prices, and as hedging costs were more expensive.
Japan's 10-year government yields were at 0.5% on Thursday - the upper limit of the central bank's policy band, which was widened to 0.5% from 0.25% in December.
Some market participants bet the Bank of Japan will raise the cap further or even abandon the yield-curve control policy, and such step would prompt further selling in foreign bonds, and inflows into domestic bonds.
"The hedging cost is still high, and that's shown in the inverted yield curve. So the long-term holders like lifers still have to stay away from foreign bond investment right now," said Nomura's Matsuzawa. Data showed that Japanese investors also disposed of 440.4 billion yen worth of foreign equities, marking their fifth straight week of net selling.
(Graphic: Japanese investments in stocks abroad -
)
Meanwhile, foreign investors exited 225.2 billion yen worth of Japanese bonds after 2.7 trillion worth of net purchases in the previous week. They drew 208.9 billion yen out of long-term and 16.3 billion yen out of short-term bonds.
(Graphic: Foreign flows into Japanese debt securities -
)
Japanese equities saw a marginal 520 million yen worth of foreign selling after obtaining cross-border inflows for five weeks in a row.
Foreigners sold 226.36 billion yen in cash equities but pulled in 225.84 billion yen worth of derivatives.
(Graphic: Foreign flows into Japanese stocks -
)
© Copyright Thomson Reuters 2023. All rights reserved.