Six Killed In Russian Rocket Attack As Putin Delivers Speech, Ukraine Says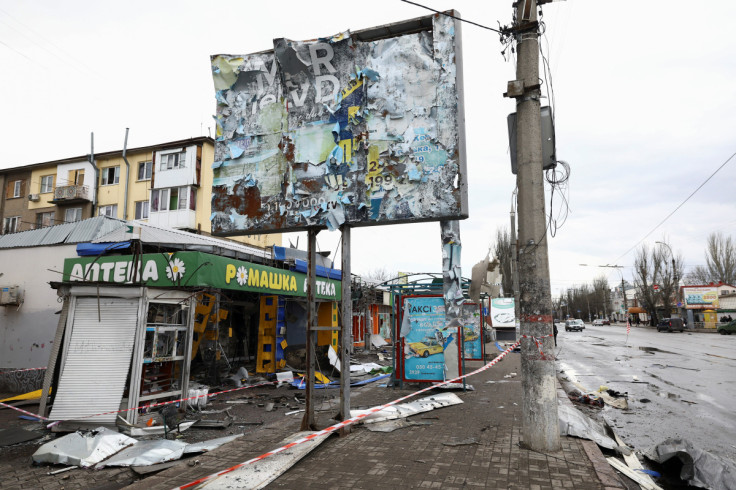 At least one Russian rocket slammed into a busy street in the southern Ukrainian city of Kherson killing six people, officials said, as Russian President Vladimir Putin delivered a speech marking a year of war in Ukraine.
Military and city authorities said 12 others were wounded in the attack, which a Reuters correspondent on the scene shortly afterwards said left a pool of blood on the pavement beside a mangled bus stop.
The blast also badly damaged a line of shop-fronts behind the bus stop, took down power cables and shattered windows on the opposite side of the street.
Photographs posted online by President Volodymyr Zelenskiy had earlier shown corpses lying in the street.
"This time of day it's very crowded here so there are probably many casualties," Viktoria, a woman waiting for a bus who declined to give her last name, told Reuters.
"It's really scary. They also shoot where we live."
Local authorities said Kherson came under fire from multiple rocket launchers as Putin delivered a speech describing the West as the aggressor and depicting his country as not waging war on the Ukrainian people.
In an evening video address, Zelenskiy said the shelling could not have had any military purpose.
"Our army, our military intelligence, our security service and other Ukrainian forces will find and destroy those who inflict these cruel strikes on Kherson, on our other towns and regions," he said.
Russia did not immediately comment on the events in Kherson, where the Ukrainian military said about 20 rockets were fired at the city.
Moscow has denied deliberately targeting civilians in its "special military operation", but cities across Ukraine have been devastated in missile and drone attacks and thousands of civilians have been killed.
Ukraine recaptured Kherson in November after eight months of Russian occupation, obliging pro-Moscow forces to abandon the only regional capital they had captured since invading Ukraine on Feb. 24 last year.
The city of Kherson and surrounding areas are now under almost constant bombardment from Russian forces on the opposite side of the Dnipro River.
© Copyright Thomson Reuters 2023. All rights reserved.