SVB Shockwaves Pound Global Bank Stocks Gripped By Contagion Fears
Silicon Valley Bank's collapse continued to pound global bank stocks on Tuesday as investors fretted over the financial health of some lenders, despite assurances from U.S. President Joe Biden and other policymakers.
An indicator of credit risk in the euro area banking system leapt to its highest since mid-July, as worries about contagion risk after two U.S. banks collapsed compounded investor concerns about the impact on the banking sector of rising interest rates.
The European banks index fell 0.6% after posting its biggest percentage loss in more than a year on Monday.
Shares of embattled Credit Suisse fell 1.3% after it said customer "outflows stabilized to much lower levels but had not yet reversed" in its 2022 annual report.
And Britain's HSBC slipped 1.8% in its fourth consecutive day of losses. HSBC bought the UK arm of SVB on, rescuing a key lender for technology start-ups in Britain.
Earlier in Asia, banking stocks extended their declines, with Japanese firms hit particularly hard as anxiety about systemic risk sparked a wider rout in markets.
Japanese financial institutions have sufficient capital buffers to absorb any losses caused by external risks, such as rising overseas interest rates, the Bank of Japan said on Tuesday. It did not directly mention the SVB collapse.
Biden's efforts to reassure markets and depositors came after emergency U.S. measures to shore up banks by giving them access to additional funding failed to dispel investor worries about potential contagion to other lenders worldwide.
"Bank runs have started (and) interbank markets have become stressed," said Damien Boey, chief equity strategist at Sydney-based investment bank Barrenjoey. "Arguably, liquidity measures should have stopped these dynamics but Main Street has been watching news and queues - not financial plumbing."
A furious race to reprice interest rate expectations also buffeted markets as investors bet the U.S. Federal Reserve will be reluctant to hike next week.
Traders currently see a 50% chance of no rate hike at that meeting, with rate cuts priced in for the second half of the year. Early last week, a 25 basis-point hike was fully priced in, with a 70% chance seen of 50 basis points.
Short-end yields in the euro zone tumbled again as investors bet the European Central Bank would moderate its policy tightening at Thursday's meeting, with chances of a Bank of England hike next week also seen receding.
Yunosuke Ikeda, chief equity strategist at Nomura Securities, said the shift to much less aggressive Fed hike expectations has also tempered the outlook for an eventual pivot in Japan away from ultra-low interest rates.
The prospect of higher interest rates had been "the reason investors have been really excited about Japan bank stocks", Ikeda added.
Analysts say uncertainty continues to dog the financial sector with investors extremely worried about the health of smaller global banks, the prospect of tighter regulation and a preference to protect depositors at the expense of shareholders should other banks fail.
A wave of customers have applied to shift their accounts to large U.S. banks such as JPMorgan Chase and Citigroup from smaller lenders after SVB's collapse last week, the Financial Times reported on Tuesday.
Major U.S. banks lost around $90 billion in stock market value on Monday, bringing their loss over the past three trading sessions to nearly $190 billion.
Regional lenders were hit the hardest. Shares of First Republic Bank plunged more than 60% as news of fresh financing failed to reassure investors and rating's agency Moody's reviewed it for a downgrade.
Biden said on Monday his administration's actions meant Americans would be confident the U.S. banking system is "safe", while also promising stiffer regulation after the biggest U.S. bank failure since the 2008 financial crisis.
GRAPHIC: SVB, Signature Bank are first bank failures since 2020 (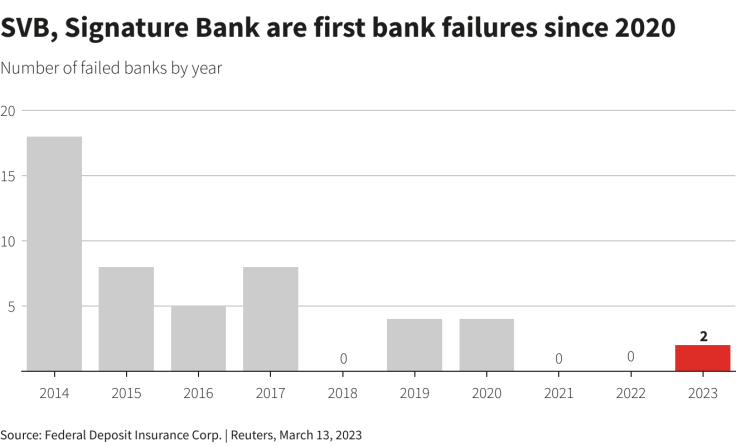 )
ACCESS TO DEPOSITS
SVB's customers were given access to all their deposits on Monday and regulators set up a new facility to provide banks access to emergency funds. The Fed made it easier for banks to borrow from it in emergencies.
In a letter to clients, SVB's new CEO Tim Mayopoulos said it was open and conducting business as usual within the United States and expected to resume cross-border transactions in coming days.
"I recognize the past few days have been an extremely challenging time for our clients and our employees," said Mayopoulos, a former CEO of federal mortgage finance firm Fannie Mae who was appointed by the FDIC to run SVB.
U.S. bank regulators sought to reassure nervous customers who lined up outside SVB's Santa Clara, California, headquarters on Monday, offering coffee and donuts.
"Feel free to transact business as usual. We just ask for a little bit of time because of the volume," FDIC employee Luis Mayorga told waiting customers.
Regulators also moved swiftly to close New York's Signature Bank, which had come under pressure in recent days, while Canada's banking regulator took steps to begin daily check-ins with banks that will enable it to monitor their liquidity, The Globe and Mail reported on Monday.
GRAPHIC: The Rise and Fall of SVB and Signature Bank (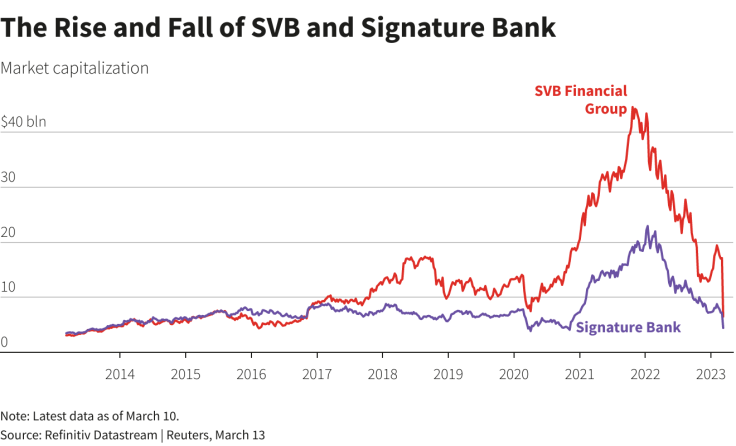 )
© Copyright Thomson Reuters 2023. All rights reserved.