Thai Q4 GDP Unexpectedly Falls, 2023 Outlook Trimmed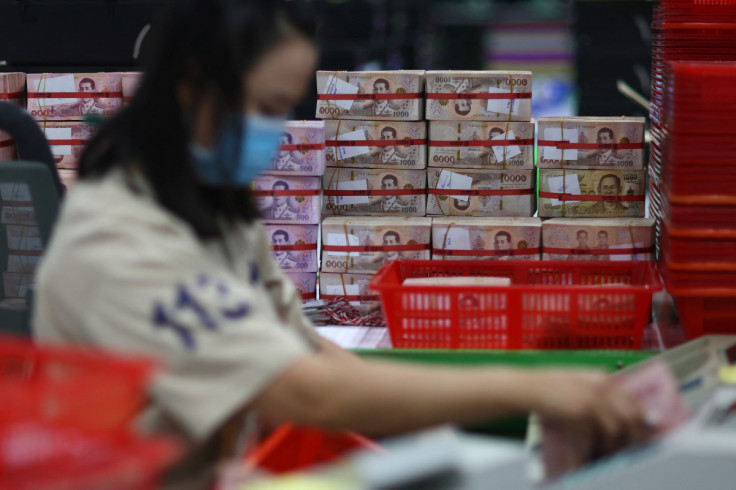 Thailand's economy unexpectedly contracted in the final quarter of 2022 as a rebound in the vital tourism sector was unable to offset falls in key sectors including exports and manufacturing.
The planning agency responded by downgrading its outlook for this year.
But the economy, Southeast Asia's second largest, should not see a recession, thanks to a pick-up in tourism, the agency said.
Gross domestic product (GDP) in the fourth quarter of 2022 was 1.5% lower than in the previous three months, according to seasonally adjusted data issued on Friday by the agency, the National Economic and Social Development Council (NESDC).
It was the first drop in five quarters and compared with a Reuters poll forecast for a rise of 0.5%.
The economy had grown 1.1% in the third quarter, but in the fourth it was weighed down by falls in manufacturing, exports and public consumption.
Fourth-quarter GDP was 1.4% higher than a year earlier, with annual growth slowing to the weakest pace in five quarters. That compared with a forecast annual rise of 3.5% in the poll and the third quarter's revised 4.6%.
Economies are conventionally judged to be in recession if GDP contracts in two successive quarters, but the agency said growth would return in January-March, thanks in part to strengthening tourism.
As the sector recovers from the pandemic, China's reopening is providing a further boost, helping offset some effect of weakening exports.
"Looking beyond the weak fourth quarter though, we think the economy is likely to benefit from a rebound in regional travel this year, driven by China's reopening," economist Gareth Leather at Capital Economics said in a note.
"We expect it to be one of the few economies in the region to grow faster this year than last year".
Thammarat Kittisiripat, economist at Tisco Group, said he still expected the central bank to raise interest rates further at its meetings in March and May, as policymakers tried to curb inflation.
For all of 2022, the economy was 2.6% larger than in 2021, when its growth of 1.5% was among the slowest in Southeast Asia. On Friday, the NESDC forecast 2023 growth in full-year GDP of 2.7% to 3.7%, revising down its earlier outlook of 3% to 4%. It forecast a 1.6% fall in exports for the year.
"The global economy has slowed faster than predicted ... but the revival of the tourism sector will remain a key driver of the domestic economy," NESDC head Danucha Pichayanan told reporters.
Elections that will be held no later than May should also help domestic consumption, he added.
With the return of China's visitors, the agency now expects Thailand to receive 28 million foreign tourist arrivals this year, up from the 23.5 million projected earlier.
Thailand beat its tourism target in 2022 with 11.15 million foreign visitors. It welcomed a record of nearly 40 million visitors in pre-pandemic 2019, who spent 1.91 trillion baht ($55.75 billion).
($1 = 34.26 baht)
© Copyright Thomson Reuters 2023. All rights reserved.