UK Will Back Ukraine If Opposition Labour Win Power - Labour Leader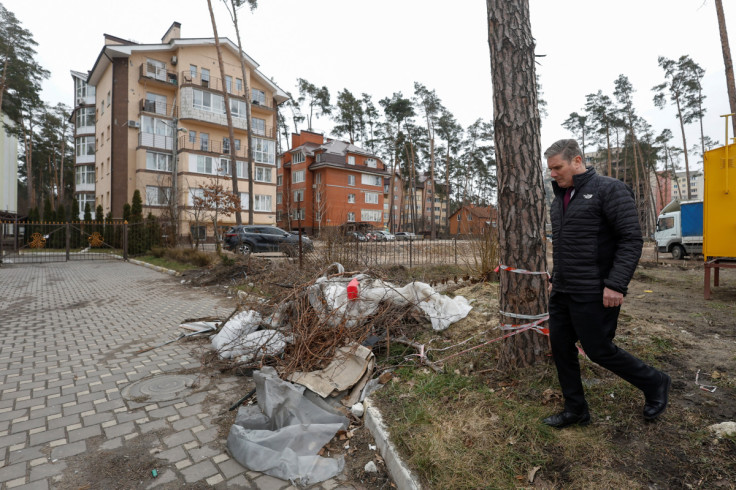 Britain's support for Ukraine will not change if the main opposition Labour Party wins power in an election next year, Labour leader Keir Starmer said during a visit to Ukraine on Thursday.
Britain has been a leading supporter of Ukraine under the governing Conservatives, and Prime Minister Rishi Sunak has followed predecessor Boris Johnson's example by visiting Kyiv. Johnson is popular in Ukraine, and has a street named after him.
But an election is widely expected next year in Britain, and opinion polls give Labour a strong lead over the Conservatives.
"Should there be an election next year and a change of government, the position on Ukraine will remain the same," Starmer said while visiting the town of Irpin outside Kyiv.
Irpin was a hotspot in the early stages of Russia's invasion, and Kyiv has accused Russian forces of committing atrocities there before pulling out.
Russia has denied the allegations but investigators have been collecting evidence of war crimes in towns including Irpin.
"It's incredible to see the evidence of atrocities that I've seen this morning. Photographs of civilians in the outskirts of Kyiv blindfolded, with their arms tied behind their back," Starmer said.
Starmer also visited Bucha, another town near Kyiv where alleged Russian atrocities have been documented, before heading to Kyiv for talks with President Volodymyr Zelenskiy.
Starmer, a former human rights lawyer, said he wanted to show support for Ukraine's calls for justice and reparations for Russian actions during the war.
"There has to be justice for this. There has to be justice in The Hague and there has to be proper reparation in the rebuilding of Ukraine," he said.
The International Court of Justice and the International Criminal Court are both based in The Hague.
© Copyright Thomson Reuters 2023. All rights reserved.