Ukraine First Lady Urges UN To Create Tribunal For Russian 'Crimes'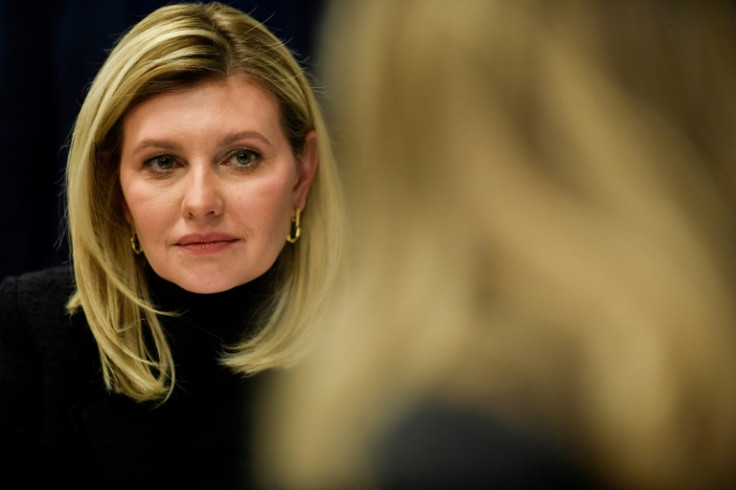 Ukrainian First Lady Olena Zelenska urged the United Nations Wednesday to establish a special tribunal to try Russia for crimes of aggression to ensure Moscow's invasion "never will be repeated" anywhere.
Ukraine has pushed for several months for the creation of the tribunal to hold responsible those behind Russia's invasion of the country one year ago.
"I think you will agree... that regardless of our country or nationality, we have the right not to be killed in our own homes," Zelenska told a special meeting at the UN on human rights violations in Ukraine.
"However, Ukrainians are being killed in front of the whole world for the whole year in their own cities, villages, apartments, hospitals, theaters," she told a panel of UN diplomats by video.
"That's why we call on the United Nations to establish a special tribunal for the crimes of Russian aggression," she said.
Ukraine had envisaged presenting a formal resolution on a tribunal for the anniversary of the invasion on Friday, but the initiative has been postponed, according to diplomats.
Instead, the UN General Assembly will consider Wednesday a resolution calling for a "just peace" in Ukraine, which could gain broader support from member states.
The Hague-based International Criminal Court launched an investigation in February into war crimes and crimes against humanity in Ukraine.
But while changes to the ICC's governing Rome Statute gave it powers to prosecute aggression from 2018, it still cannot do so for non-member states, and neither Russia nor Ukraine are members.
"Russia has committed all kinds of crimes against the Ukrainian people," said Ukraine Foreign Minister Dmytro Kuleba, citing attacks on civilians, summary executions, exfiltration of populations in occupied zones, and rape and torture.
"The most deplorable crime is the forcible transfers and deportations of Ukrainian children to Russia, away from their families," he said.
He called for "comprehensive" accountability of all Russians involved in alleged crimes in Ukraine, including Moscow's political and military leadership.
The European Union and Kyiv are supporting plans to set up an international office in The Hague to help investigate Russia for the "crime of aggression" in Ukraine.
That could be an interim step toward the creation of a dedicated tribunal as Ukraine is proposing.
Zelenska said the tribunal would serve global interests and not just Ukraine.
"It is not only us who need that, we need that for everyone. So that never will it be repeated again," she said.
© Copyright AFP 2023. All rights reserved.