West Philippine Sea Dispute: Majority Of Filipinos Want Defense Cooperation With US, Survey Indicates
KEY POINTS
Respondents said they believed cooperation with the U.S. will strengthen Philippine sovereignty in the WPS
Xi has said China was ready to resume oil and gas exploration talks with the Philippines
Marcos secured nearly $23 billion in investment pledges from Chinese investors
A majority of Filipinos believe that the current administration should cooperate with the United States as part of their efforts to improve the country's defense capacity in the West Philippine Sea, a recent survey showed.
According to the survey conducted from Nov. 27 to Dec. 1 by Pulse Asia, 84% of respondents indicated that they want the Marcos administration to "work with" the U.S. "to strengthen security cooperation to defend" the Philippines' national sovereignty in the West Philippine Sea (WPS), GMA News reported.
Aside from the U.S., the public opinion polling body also mentioned other countries that the respondents think the Marcos government should work with. About 52% said they want security cooperation with Japan, while 25% said Australia in terms of defending the Philippines' territorial waters.
"This indicates that the Philippines must continue to work with its existing allies and forge relationships with new ones in order to competitively and efficiently address issues and incidents in the West Philippine Sea," Stratbase President Prof. Dindo Manhit said about the survey's results. The survey was commissioned by the Stratbase ADR Institute.
News of the survey's results came as President Ferdinand "Bongbong" Marcos Jr. was in China in hopes of improving the Philippines' relations with the Chinese government.
On Thursday, the two nations said in a joint statement that they agreed to establish a direct line of communication to handle WPS disputes, peacefully, Reuters reported.
The statement noted that the Philippines and China will meet "as soon as possible" to discuss "pragmatic cooperation" in terms of talks about oil and gas exploration in the West Philippine Sea.
Chinese state television also showed President Xi Jinping saying on Wednesday that his country was ready to resume oil and gas discussions "cordially" with the Philippines.
Marcos Jr., on the other hand, said he spoke with Xi regarding the disputed waters "to avoid any possible mistakes, misunderstandings that could trigger a bigger problem than what we already have."
Meanwhile, the Office of the Press Secretary (OPS) said in a press release Thursday that Chinese investors have committed to $22.8 billion in investment pledges during the president's state visit.
The biggest investments were pledged towards renewable energy at $13.76 billion, followed by strategic monitoring at $7.32 billion, and agribusiness at $1.72 billion.
The OPS also said the Philippines and China "agreed to further increase a more balanced bilateral trade and expand capital market cooperation" by allowing greater market access in terms of Philippine exports to China post-pandemic.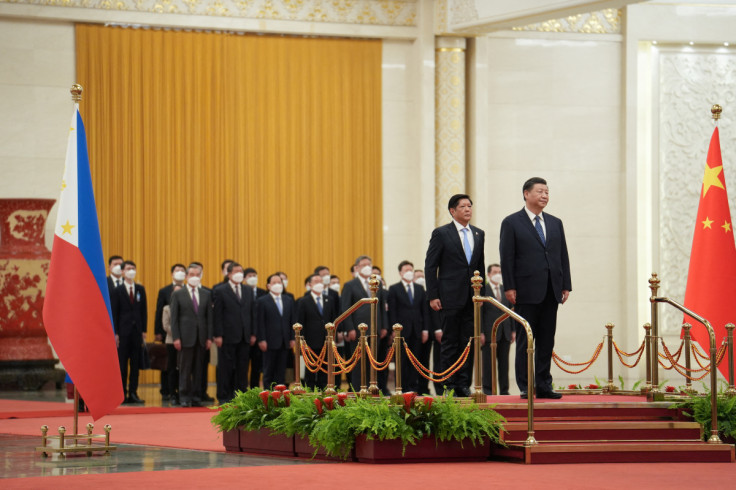 © Copyright 2023 IBTimes PH. All rights reserved.